ABOUT B2FX:
B2FX is a preeminent Make-up, Character, and Creature Effects company owned and operated by Academy Award Winning Make-up Effects Artist Barney Burman. B2FX has conceived and produced thousands of unparalleled creature and make-up effects for many of the most popular motion pictures and television series in history. Burman and his team integrate over 50-years of collective artistic expertise – ranging from prosthetic make-ups to animatronics to animal FX to props –while working in tandem with many of the most successful directors, producers, and VFX Supervisors in the world.
Headquartered in a 5,000 sq. ft. creative studio space in North Hollywood, CA, B2FX specializes in the concept, design and production of special make-up effects using state-of-the-art techniques and materials. The company is committed to delivering truly unique and compelling end results to major studio and independent feature films, television programs, and TV commercials alike.
Along with his team, Burman has worked with many of the world's most renowned filmmakers. Among them: J.J. Abrams, Ben Stiller, Tim Burton, Ben Affleck, Ron Howard, Gore Verbinski, Jay Roach, Spike Jonze, Bryan Singer, Zack Snyder, Peter Weir, Danny Devito, Andy & Lana Wachowski, Barry Sonnenfeld, Michael Bay, Jonathan Demme, Milos Forman, Leonard Nimoy, and many others.
Burman and B2FX have contributed intriguing and renowned art to hundreds of projects. Among these are such high profile entries as "Star Trek," for which Burman won the "Best Make-Up" Oscar in 2010, "Grimm," "Teen Wolf," "Arrested Development," "Tropic Thunder," "Chuck," "Medium," "How the Grinch Stole Christmas," "Planet of the Apes," "Valkyrie," "Pirates of the Caribbean," "Master and Commander," "Austin Powers in Goldmember," and "Mission Impossible: III," to name just a few.
Advertisers and brand marketers also turn to B2FX on a regular basis to provide compelling and unique special make-up effects, props, and characters. In this regard, B2FX has provided its artistic contributions to such major advertisers as AT&T, The MTV Movie Awards, Citi-Bank, Visa Card, Nissan, TYCO, Honda, HBO, and "Got Milk," among them.
Academy Award Winner Barney Burman is the President, Founder and Artistic Director of B2FX, one of the leading Special Makeup, Creature and Character Effects companies in the entertainment industry. Barney's contributions to the hit, 2009 Paramount Pictures film "Star Trek," which included creating over three dozen new alien characters, led to his win of an Oscar for "Best Makeup" during the 2010 Academy Award ceremonies.

A veteran Makeup Effects Artist since l980, Barney and his team continue to provide the Makeup FX for the hit NBC television series "Grimm." Other recent film, television and commercial projects to which Barney has contributed include: "Arrested Development," "Dark Hearts," "Crazy Eyes," "Repo Chick," "Shuffle," "Teen Wolf" and "Touchback."

Launching his own studio in 2004, Barney and his crew have since contributed Makeup Effects to a diverse array of projects. These include the hit TV shows "Eagleheart," "Alias," "Strong Medicine," "Scrubs," "King of Queens," "Chuck" and "Medium," and the feature films "Blades of Glory," "Valkyrie," "Fame," "Fast & The Furious: Tokyo Drift," and "Tropic Thunder," for which he designed the makeup that transformed Tom Cruise into abusive studio head, "Les Grossman."

Barney, a proud member of IATSE Local 706 and the Screen Actor's Guild, was literally born into the world of makeup for the entertainment industry. His grandfather, Ellis Burman, Sr., was a true industry pioneer, creating makeup effects before there was even a name for them. Ellis made prosthetics and special props for such early Hollywood films as "The Wolf Man" (1941) and "House of Frankenstein" (1944), animatronic animals for Rudyard Kipling's "Jungle Book" (1942), masks for Rod Serling's "The Twilight Zone" TV series (1959-1963), and many others.

Barney's father, Thomas R. Burman, also a renowned makeup artist, won multiple Emmy Awards for various television shows, and also earned an Oscar Nomination in 1988 for his work on "Scrooged." While in his teens, Barney began to pursue acting, studying with legendary teacher Sanford Meisner, and later spending time with Tim Robbins' Actors' Gang in the early '90's. Barney landed bit parts in several movies ("Star Trek III: The Search for Spock," "The Offspring," "Brain Dead" and "Meet the Hollowheads," to name a few), along with TV shows ("Lois and Clark" and "Acting Sheriff," starring Robert Goulet), and numerous stage productions. But, eventually, the pull toward transforming other people's faces into something they're not became undeniable to him. He wound up, once again, as a Makeup Effects artist. 

Barney was fortunate enough to have been involved in makeup effects for some of the highest profile feature films of the past fifteen years. He had the great fortune of collaborating with--and learning from—such fellow artists as: Rick Baker ("How the Grinch Stole Christmas," "Planet of the Apes," "The Ring 1 and 2"), Ve Neill ("Pirates of the Caribbean," "Constantine"), Ed Henriques ("Master and Commander: The Far Side of the World"), Greg Cannom ("Bulletproof Monk"), and Michele Burke ("Austin Powers in Goldmember"). Over the years, Barney blended the experience he gleaned from working with those masters along with the knowledge that his father instilled within him.

In 2004, Barney opened his own company and during this first year, he and his team had begun creating the makeup effects for such motion pictures as "Tenacious D in The Pick of Destiny" and "Mission: Impossible: III," as well as for a number of other, more modestly-budgeted, productions. 

To celebrate 2013, Barney recently expanded his creative production studio into a 5,000 square foot site in the heart of North Hollywood's Arts District. This year, B2FX will continue its significant contributions to NBC's "Grimm," while also designing and producing a diverse array of SFX for other major studio, indie film, TV series and commercial projects.

Nicholas Reisinger
Shop Coordinator B2FX

Biography
Nick Reisinger is the Shop Coordinator for B2FX's new, 5,000 sq. foot creative production studio in North Hollywood. Today, he oversees the hiring of artists, the scheduling of life casting for celebrities and actors, and plays an active role in fulfilling the company's extensive Makeup FX services for the hit NBC TV series "Grimm."

While working on the set of the indie horror film "Jack the Reaper" in 2010 as a Makeup Artist, Nick first met Barney Burman, and the two became fast friends. Barney offered him a position as an Intern, a post Nick first held at Burman's Pacoima, CA, shop, before eventually becoming promoted to Shop Foreman. While based in Pacoima, Nick was in charge of hiring sculptors, mold makers and artists as needed for a diverse array of TV, feature film and commercial projects. Among these were "Touchback," "Grey Skies," "Medium," "Teen Wolf," "Body of Proof," and a high-profile commercial for AT&T.

Born in Michigan, Nick attended Complections College of Makeup Art & Design, a renowned TV and film makeup school based in Toronto. There, he earned degrees in both Makeup FX for TV and Film, and in Animatronics. Following school, Nick relocated to Southern California in 2004, where he worked on numerous independent feature film projects as a freelance Makeup Artist.

Between 2006-2010, Nick provided Makeup work to a great number of horror films produced by Hectic Films. During this period, he was also a freelance Makeup Artist, contributing his artistic skills to a variety of student films from USC, AFI, and New York Film School, as well as to a number of television commercials.

As a side enterprise, Nick has extensive experience in setting up and running "Haunted Houses" every year around Halloween for clients across the LA-area.

Daniel Tirinnanzi
Creative Director B2FX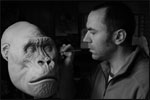 Biography
Daniel Tirinnanzi is the Creative Director for B2FX, one of Hollywood's preeminent Makeup, Creature and Character FX Studios. Since joining the company in 2012, he has been actively involved in providing sculptures, painting and artwork for the various characters seen in the hit NBC TV series "Grimm".

A native of Italy, Daniel studied at the Institute of Art in Florence, then attended Special Effects Makeup classes at the Los Angeles campus of the Makeup Designory in 1999. Completing his studies, Daniel worked for ten years (1999-2009) with Italian Magic Artists in Florence, Italy. During this time, he contributed practical FX, sculpting, mold making, painting, and animatronics to a number of music videos, TV commercials and theme park attractions.

Spending some months in Madrid, Spain, Daniel was the Animatronics Designer for his client Plan 9 FX, on the Spanish film "La Herencia Valdemar," a horror movie produced by Universal Studios, based on an HP Lovecraft story. During 2010, he was a sculptor and mold maker with an LA-based FX shop, where he worked on TV series ("Criminal Minds"), feature films ("Area 51" and "Paranormal Activity 2"), and DVD movies ("Quarantine 2"). He was also a Prosthetic Makeup Artist for the hit film "X-Men: First Class" during this time period.

While working in-house with The Character Shop in Simi Valley, Daniel was a sculptor and mold maker for various projects, including TV commercials for Discover Card, Capital One and Corona Light. From 2011-2012, he was a sculptor and mold maker with Alterian, another LA-based company. During this time, he was involved with "Curse of Chucky," "Suzie's Hope" (for which he provided animatronic animal effects,) a TV commercial for Capri Sun, and a variety of other television commercials.